It All Started In My Kitchen
Since I couldn't find sugar-
free snack bars, I decided to
make my own. I spent hours
mixing different nuts and
seeds to make my 'perfect
bar'. This picture was the very
first snack bar I attempted to
make!


The Issue..
The bars were too sticky, too
crunchy, or ended up being
solid brick!
I decided to test different
ways to heat the syrup- in
the oven instead of the
saucepan.
At the time, I covered pecans with maple
syrup and honey, then heated these at different
temperatures and times.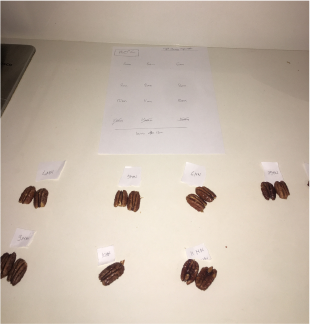 I Was Amazed By..
the fact that I could not find a single
sugar-free snack bar. Not one.
I realized I could not possibly be
the only one searching, so I
decided to make my bars
available to others. I read up on
starting your own business and
founded 'The Simple Company'.
Working With a Food Scientist
I soon realized I needed to work
with a food scientist to
perfectionize the recipy.
This was my first time in the
lab- we ordered all sorts of
crisps to try; quinoa crisps, rice
crisps, sorghum crisps, pea
crisps, etc.
Testing, Testing, Testing
Turns out the syrup challenge was
a real issue. Even in the lab, it took
a very long time and many..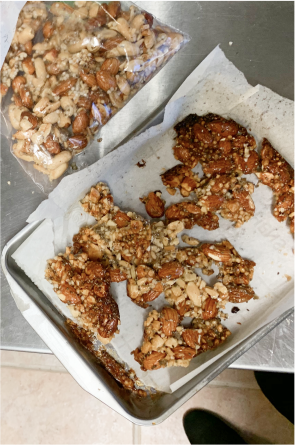 many..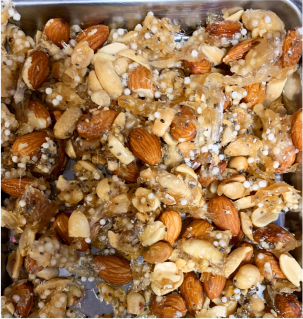 many..
many..
many tries!
many..
many..
Shiny Look
Getting the glazed and
shiny look on the bar was a
process!
Some Travelling
Once the formula was
finalized, the next step
was finding ingredient
suppliers.
Where? At expos!
Joined Food Expos
Natural Products
Expo West
Meeting New People!
Joined conferences, met with
amazing people and learned a
great deal!
Haile Thomas
Activist, Influencer
@hailethomas
Blair Kellison
CEO of Traditional
Medicinals
Searching For High-Quality
Ingredients
This was not easy- finding
non-gmo ingredients, asking
for specs, and CoA's, shelf-life,
date of manufacturing etc.
At these expos, I learned the
industry slang!
Trial Run!
Formula: check
Ingredients: check
Next was the test run!
Making sure we do the
bars correctly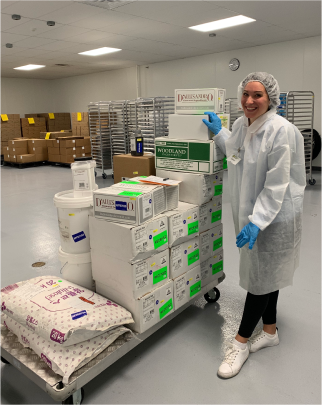 Trademark Application
This process only took 6
months!
Designing The Packaging
Deciding how to name each flavor,
which pantone color to use, what
information to share, all this was also a
long process..
from this
to this
We had to resize the
wrapper and test
where to place the
logo correctly.
Sampling
Door-to-door, from stores
to offices and even a
fireplace station- many
people tried and loved
the bars!
This was the best way to
receive feedback on the taste
and texture of the bars.
Then, Covid hit ...
Launch date
August 1st, 2022